Physiotherapy for Children in Brisbane
Paediatric Physiotherapy
Physiotherapy for All AgesBabiesToddlersChildrenTeens
Adaptability Therapy offers Physiotherapy services for children and young people around the Brisbane, Gold Coast, Sunshine Coast and Toowoomba. Our kids' Physiotherapy team is highly experienced working with babies, young children and adolescents.
You don't need a referral to access our services, so contact our friendly team to book an appointment for yourself or your child today.

Watch Our Video Contact Us
Our Approach
Babies and children have unique anatomical, physiological and psychological needs compared to adults. At Adaptability Therapy, our Paediatric Physiotherapists have extensive training and experience with children and take into consideration these different requirements in order to treat children effectively. We take a goal-oriented approach, working on the skills and functioning that are important to the children and families we see. We use best-practice assessments and interventions to guide and design quality programmes to meet your child's goals. Physiotherapy input may include motor learning through play, equipment or adaptations, strengthening and conditioning, movement training, intensive hands-on therapy, hydrotherapy as well as education and parent training.

Our Paediatric Physiotherapists and Occupational Therapists work closely together to ensure optimal outcomes for their clients.
Call our friendly team today
You don't need a referral to access Physiotherapy for your Child.
Hydrotherapy
Hydrotherapy can have many positive benefits for Children with disabilities, injuries or illnesses. Hydrotherapy, or Aquatic Physiotherapy, is the use of water for therapy, rehabilitation, exercise, relaxation and more. Conducting therapy in water utilises the unique properties of water, including decreased gravity, buoyancy and warmer temperatures of around 32 degrees celsius. These properties are used by the Physiotherapist to enhance the recovery and rehabilitation of clients with a wide range of conditions and provide a unique environment to maintain health, wellbeing and fitness.

Children with physical disabilities, restricted movement and associated pain and stiffness can float on the pool surface in specially designed equipment and either maximise the movement they have or be moved and facilitated by their Physiotherapist to maintain joint range.

Children with autism spectrum disorder or sensory processing differences can find physiotherapy in water very beneficial. It can assist with social interactions and behaviours of concern, and the effects of water immersion can reduce over stimulation and associated stress. Water exercise, like other forms of exercise, can assist in weight control, improve sleep patterns and reduce anxiety, as well as address tone or balance concerns.

Hydrotherapy is not swimming lessons, but can be used to work on a range of developmental milestones such as head control, rolling and sitting that are important for swimming. If these milestones are not reached, then it is likely that a child's swimming skills or ability may be impacted.

Hydrotherapy could help in the following conditions:
Early intervention
Developmental delay (including premature babies)
Cerebral palsy
Autistic spectrum disorder
Orthopaedic conditions
Juvenile chronic arthritis
Respiratory conditions
Down syndrome
Hydrotherapy Benefits
Improve range of movement
Improve muscle strength and core stability
Facilitate functional movement (e.g. crawling and walking) and achieve milestones
Allow easier muscle lengthening (stretching) with less pain
Help manage pain
Improve breath control and respiratory function
Decrease stereotypical hand movement
Increase activity and fitness levels
Improve motor planning, coordination and problem solving
Improve oral-motor skills (lip closure, bubbles, breath holding and breath control)
Improve cardiorespiratory endurance and exercise capacity
Improve social skills and behaviours
Be a safe low-impact exercise for children with hypermobility or similar issues
Promote relaxation
Assist sensory integration
Improve water safety skills, confidence and water enjoyment enabling a positive association with water activity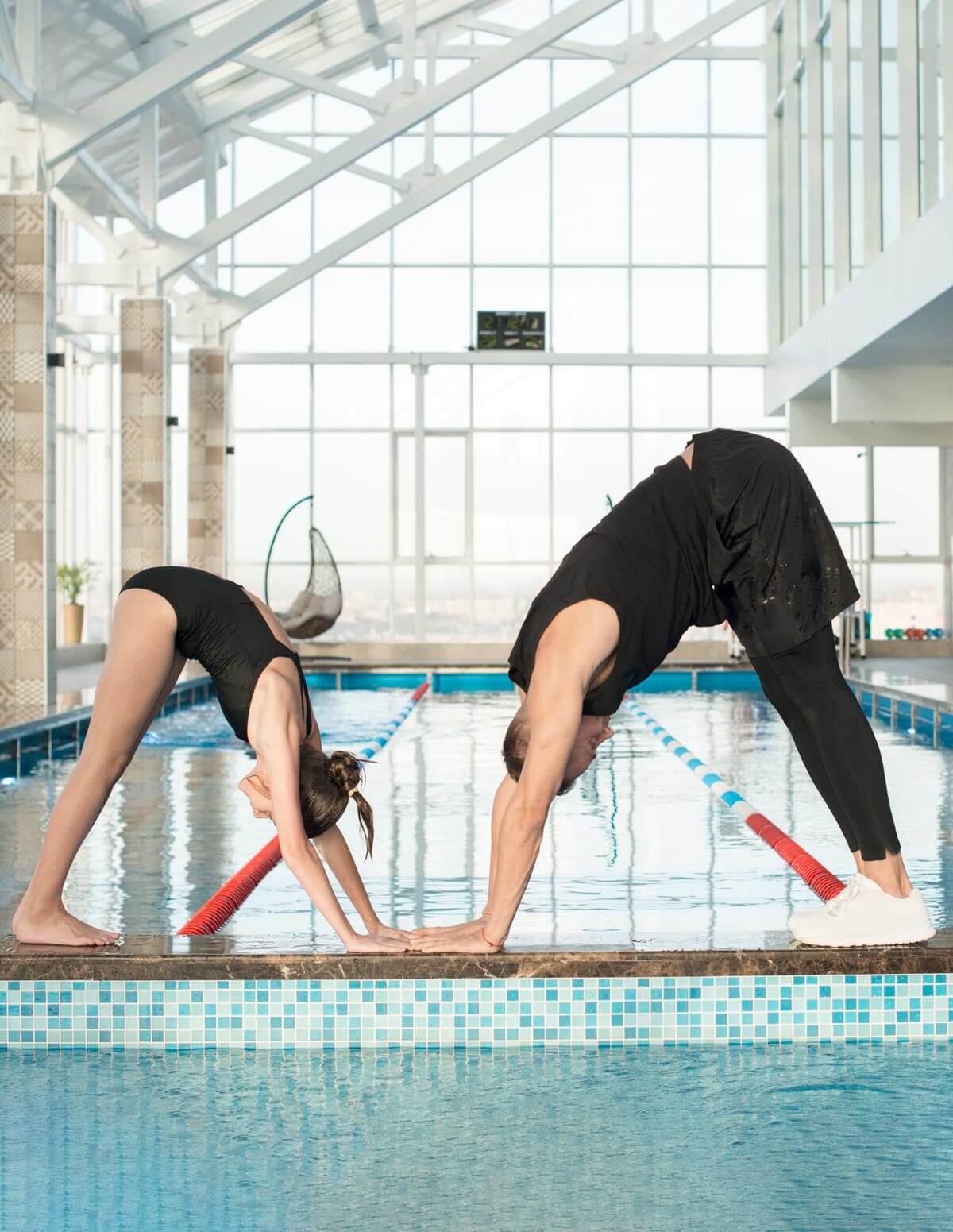 What can a Paediatric Physiotherapist help with?

Babies and children who are slower to achieve their gross motor milestones, for example babies who are late to learn to sit, crawl or walk

Poor posture, core stability, balance or movement (such as toe-walking or walking with legs internally or externally rotated)

Conditions including autism, cerebral palsy, Down Syndrome, brain injury, muscular dystrophies, or other congenital syndromes

Babies and children with conditions affecting their bones, joints or muscles, for example clubfoot, flat feet and overly flexible or dislocating joints

Low muscle tone, or tone that is increased, causing stiffness or floppiness that affects movement

Coordination and motor skills involving large movements like jumping or hopping, or ball skills

Children who have rheumatological and pain conditions such as arthritis, myositis, or chronic pain

Chronic respiratory conditions such as cystic fibrosis, bronchiectasis or primary ciliary dyskinesia

Toddlers and babies who are clumsy or uncoordinated

Rehabilitation following an injury, illness or trauma

Sporting injuries, sports preparation and physical fitness

Developmental dysplasia of the hip

Babies who tilt or rotate their heads to one side due to congenital sternocleidomastoid torticollis.

Paediatric vestibular impairments that can be linked to other disorders.
Why Choose Adaptability Therapy?
NDIS Registered & Approved
We are a registered NDIS provider, meaning we meet the high standards required of allied health organisations by the NDIS.
Mobile Appointments
Adaptability Therapy offers appointments for Physiotherapy around the Brisbane, Gold Coast, Sunshine Coast and Toowoomba. Therapists come to you in your home, workplace or other location of your preference.
Physiotherapy for Adults
Adaptability Therapy offers Physiotherapy services for adults around the Brisbane, Gold Coast, Sunshine Coast and Toowoomba. Our Physio team is experienced working with people of most ages, from teens through to people who are ageing.
What Do We Do?
As Paediatric Physiotherapists, our primary aim is to allow children to build their skills and independence in areas such as:
Movement and play
Motor coordination and motor control
Strength and endurance
Functional skills development
Ball skills, climbing, play and sports
Locations We Visit
Adaptability Therapy offers appointments for Paediatric Physiotherapy around the Brisbane, Gold Coast, Sunshine Coast and Toowoomba. Therapists can come to children at home, day care or at school.
About Adaptability Therapy
Meet our team
Meet our experienced team. Learn more about Adaptability Therapy and how we can help you.
NDIS Registered & Approved
In-home Physiotherapy Appointments
Telehealth appointments available
No GP referral letter needed
Assessments + Reports
Contact us